Tips For Choosing The Best Business Insurance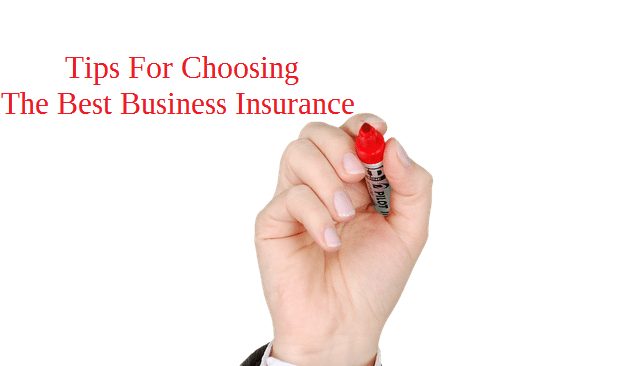 When you start your business, it's important to protect your business. You'll want to protect your time and your money and ensure that what you're working hard for is protected from all debts and liabilities. When you purchase the right type of business insurance, you can rest assured that your investment is safe.
Understand The Types Of Policies
There are several different types of policies that you can choose from. These will over you a variety of coverages and protection from damages should something happen. You'll want to protect your assets from any potential liabilities and you'll want to make sure that you're protected should anyone become injured on the premises of your place of business.
There are special insurances that will protect you if there is a long-term illness and you can't work. There are insurances for employee coverages as well. All of these need to be factored into your insurance so you'll want to find an insurance broker that can explain these coverages in depth for you and help you to choose the best possible coverages for your specific needs.
You'll want a broker that is experienced in your field of expertise. If your job is working with securities, for example, you'll want a broker that understands the risks that you face on a daily basis and can help you find the best policy for your needs. You'll want to feel comfortable with the broker and be able to call and have your questions answered should you have any questions arise.
Understanding The Categories
There are four basic categories regarding insurance. There is business property insurance that will reimburse the insured who suffers a financial loss due to a property (land and buildings) that has been damaged or destroyed.
There are business liability insurances that will offer protection for bodily injury and property damages if the insured is responsible legally for any damages or other conditions.
Business auto insurance will protect against damages that happen via vehicles that are used for business purposes. These are very similar to your personal auto policy in that there is coverage for property damage, there are comp and collision insurance and personal injury.
A business umbrella policy will extend such coverages for any losses that are above the limits of the other policies. This may help to protect the business even further should there be any issues that arise.
Understanding The Limits And The Deductibles
There are a variety of limits and deductibles. Finding the right policy is vital to protecting your business. The broker can go over your options with you and explain why you do or don't need specific coverages.
There are many things to factor in when considering the limits and the deductibles of a policy. You'll want to obtain more than one quote and you'll want to make sure that you understand what each quote entails. If you don't ask questions, you're not going to understand what is and isn't covered.
Understanding Discounts And Comparisons
Some industries offer special discounts so always let your broker know if you're a member of any group or organization. Those little discounts can really add up and help you to save a small fortune when you're considering different policy options.
Always compare apples to apples when looking at various policies. Check that the coverages match and deductibles. Consider larger deductibles to see if premiums drop lower.
Smaller businesses may have the ability to add a rider to a homeowners insurance policy. There are many great options out there if you just check for them. By adding a rider to a personal policy, the homeowner can operate as a home based business and work from home as well.
There are a variety of common elements as well as exclusions that can help to drop the premium even lower. Understanding what your getting will go far in helping you to focus on what you really need and get only what you require.
You can opt to pay the premium upfront for a year and get a discount for paying the entire year at one time. You can pay every six months and get a reduced premium in some cases as well.
Opt for electronic statements and auto pay as well and you may be able to save some of your premium. There are many other great ways to save and a good broker will go far in helping you to understand your options and help you save as much as possible.
Ask questions so that you fully understand what is and isn't covered and make sure that you're paying attention to the fine print. There are many who don't and wind up paying for a coverage that they never realized they had on their policy.
Know more about the business insurances and the different types of business insurance so that you can choose the best one.