The Various Ways To Reduce Your Business Insurance Premiums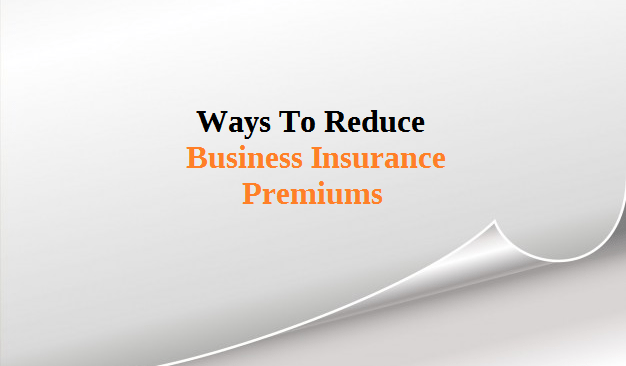 With the costs of running a business constantly increasing, it makes sense to try and save money wherever possible. While business insurance policies are a necessity among responsible business owners, there are various methods whereby an owner can get value for money. Just as you search for the best price on company supplies or suppliers, it is recommended that you consider different factors when choosing a business insurance company. This article will provide information on the different ways to reduce your business insurance premiums efficiently.
One main feature of all insurance companies is their need to insure responsible clients. To prove your responsibility as a business, it is recommended that your staff undergo a safety training program or complete a risk management review. This will also help reduce the possibility that you will need to make an insurance claim, thereby ensuring that the premiums avoid any unpredictable and
2. Categorizing Staff Members
There are various business industries with higher risks of employer injury, and if you or your staff are placed in these categories it is likely that your business will pay higher insurance premiums. To reduce premiums, it is tempting to downplay the possible dangers; however, lying to an agent or broker can result in you losing any potential business coverage when it is required. It is not recommended that you downplay any risk factors and tell the insurer about all employee movements that may affect the premium costs. This is the best practice to ensure you receive the most appropriate coverage possible.
3. Evaluate The Insurance Policy Annually
While it is tempting to see an insurance policy renewal conducted automatically, it is recommended that you make the payment of the policy manually and review the statement at each renewal. This may not be a high priority, but it can be detrimental if you do not review the policy on an annual basis. It is best to sit down with an agent and ask questions about any changes in the company, any adjustments regarding the business model, or any changes in the policy rates. It is also an opportunity to ensure that you are protecting the company to the best of your ability and reducing the cost of the policy.
4. Improving Security Precautions
Fire sprinkler systems, security systems, worker safety programs, and driver training courses are all preventative measures to reduce business insurance premiums. If the company deals with sensitive client information, it is also recommended that one maintain security procedures to reduce any exposure to cybercrime. Insurance agents will evaluate the risk of exposure and a broker will be able to identify the problem areas helping you integrate a program that will improve security in the business.
Similar to the way people receive discounts when buying items in multiple numbers, it is possible to purchase a business insurance policy in bulk as well. Business insurance policies purchased in bulk is an ideal way to reduce the business insurance premium as there is no need to pay twice for the same type of coverage. However, if the business is an atypical one requiring specialty insurance, you may require a rider to purchase suitable levels of coverage.
6. Paying The Insurance Premium Up Front
If you have used a payment plan previously, then you have probably paid a fee for the option. It is possible to avoid this fee and reduce the cost of the insurance plan by paying the final premium up front. While it may seem a large expense, it is worthwhile to consider the long term investment and save up for the following year's payment in the current fiscal year. If may seem painful in the beginning, but by paying up front you will show an intention to commit to the insurance plan.
7. Modifying The Deductible
This method to reduce a business insurance premium is quite simple - increase the deductible and lower the premium. Many companies modify their deductible by identifying what they can afford in the case of making an insurance claim. For example, large firms are able to manage deductibles in the thousands; however, smaller companies operate on tight deductible amounts desiring a limited outlay. There is no rule regarding the deductible and each business will need to evaluate its needs to determine how large their deductible can be.
It is important that you are confident to ask for discounts as a business. Businesses can find discounts as part of trade associations and these discounts will help reduce business insurance premiums. Carriers within an industry can also offer insurance policies at more affordable prices for smaller companies. The discounts are available; you just need to find them.
Despite what is said, it is possible to reduce business insurance premiums effectively. Using the different methods, it is possible to obtain an affordable insurance coverage for your company's specific needs.
Do you want to do business insurance evaluations? Read next to know more.