Commercial Insurance Myths And The Truth Behind Them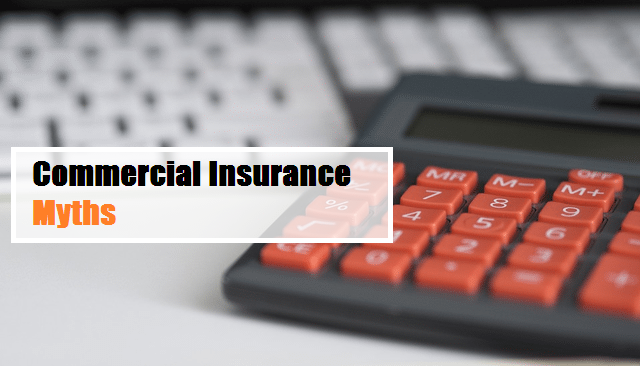 When it comes to commercial insurance, there are a lot of myths out there that you need to know about. It is important to know what the myths are and what the truth actually is. If you do not do this, you could be working on these myths and that will be bad for your business.
The Business Is Too Small To Need An Insurance Policy
The truth is that there is no business that is too small to have an insurance policy. This is due to the fact that commercial insurance protects your business from a number of issues related to the work it does. There are some policies that will cover liability for damage that your customers claim your business has caused while other policies will cover your equipment.
It is important that you get a commercial insurance policy when you start your business. This will protect your business from disasters, lawsuits, theft and any other losses that you could face. It is better that have an insurance policy than have to be personally liable for any issues that come up.
Commercial Insurance Covers For Any Type Of Loss
When it comes to commercial insurance, a common myth is that a single policy will cover for any type of loss the business suffers. This is not actually true in the same way that personal insurance will not cover you for every issue you could face. There are no commercial insurance policies on the market that cover you for everything and each policy will have exceptions that you need to take note of.
Before you take out an insurance policy, you need to carefully read through it. Each will have different coverage, exclusions and endorsements that affect what is covered. You need to ask the policy provider questions about the policy and if it will cover all the common issues businesses in your industry face. If you do not understand something in the policy, you need to question it before you sign anything.
You Do Not Need Insurance If The Tenant Of Your Building Has Their Own
When you own and lease out commercial property, it is a good practice to ensure that your tenants have their own insurance policies. However, this does not mean that you should not have your own commercial insurance policy in place. The reason why you need to have your own insurance is the fact that it will protect your interests and could cover aspects of the building that tenants does not.
The insurance your tenant has will cover their interests and will generally not cover the building itself. As you own the building, you will be responsible for any building insurance. You will also need to have liability insurance so you are not liable if anything happens to your tenant on the property.
Home Insurance Protects Home-Based Businesses
There are a lot of people who have home-based businesses and believe that their home insurance policy will cover them in the event of a claim. This is not actually the case and relying on this can be a dangerous thing to do. The problem comes when you consider what home insurance will actually be covering.
Home insurance is designed to protect your personal property. If you have a home-based business, the items that are used for the business may not be considered personal property. If there is a problem and you need to make a claim, your insurance company may state that they are business property and therefore not covered by home insurance.
To overcome this, you should contact our insurance provider when you start a home-based business. You can find out if your policy will cover the business equipment in your home. There are some insurers who will cover this equipment, but there are others where you will need to take out an additional policy.
You Do Not Need Commercial Auto Insurance If You Use A Personal Vehicle
The basis of this myth is the same as the one regarding home insurance. People believe that if their personal vehicle is covered they will not have to get commercial insurance as well. The problem is that the personal insurance you have will only cover your car when you use it for personal reasons and not business purposes.
If you are going to be transporting equipment, meeting customers or driving clients around for business purposes, you need to look at commercial insurance. One of the reasons for this is the fact that your insurance on your equipment might not pay out if it is being transported in a personal vehicle. There are also other liabilities that commercial vehicle insurance will cover that personal insurance does not.
If you are going to be using your vehicle for business purposes, you need to speak to your insurance provider. They may be able to amend your current policy to allow for business operations. However, they might require you to take out a separate commercial policy in addition to the personal policy that you have.
Read about the ways to reduce your business insurance premiums.